Source: dnaindia.com
It is not the first time that someone has donated gold to the temple.
Ambaji Temple, one of the 51 Shakti Peethas, received 1 kg of gold as donation on Wednesday.
Naveneet Patel, a businessman from Ahmedabad, made the donation to the temple.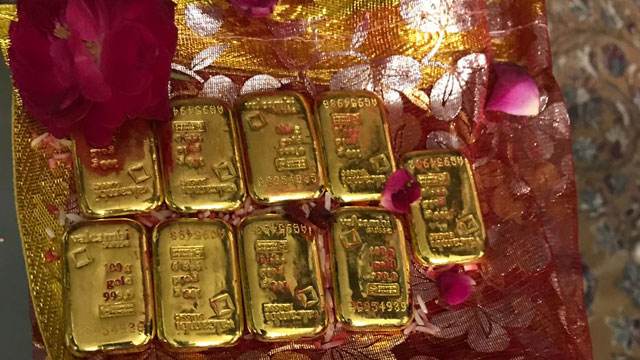 Patel has pledged to donate 25 kg gold and has donated 22 kg till the date.
Many devotees donate gold at the temple. Last year, 1.354 kg of gold worth Rs 37.91 lakh was donated temple. "A Rajkot-based devotee and his family donated 1.354 gold. It was in the form of two golden hands of goddess Ambaji and the idol was decorated with these hands," Mahendra Agrawal, Temple Administrator of Shree Aarasuri Ambaji Mata Devasthanam Trust in Banaskantha district had said. The same family had donated 1.25 kg of gold for making golden umbrella over the idol in the past, the official had said.
The temple, which is popular not only in India, but across the world saw many devotees this year on the occasion of Bhadarvi Punam Fair.
According to an estimate, over 30 lakh people visited the temple.
According to Hindu mythology, Shakti Peethas were believed to have been formed when the body parts of the corpse of Sati Devi fell into different regions.
The legends say that the heart of Goddess Shakti fell here in Ambaji.